Verne Rice, Head Tutor at Nascot Dental Team Trainings celebrates being NEBDN Qualified for 30 Years
May 25, 2022
Nascot Dental Team Trainings Head Tutor Verne Rice has been NEBDN Qualified 30 Years and talks about her Dental Career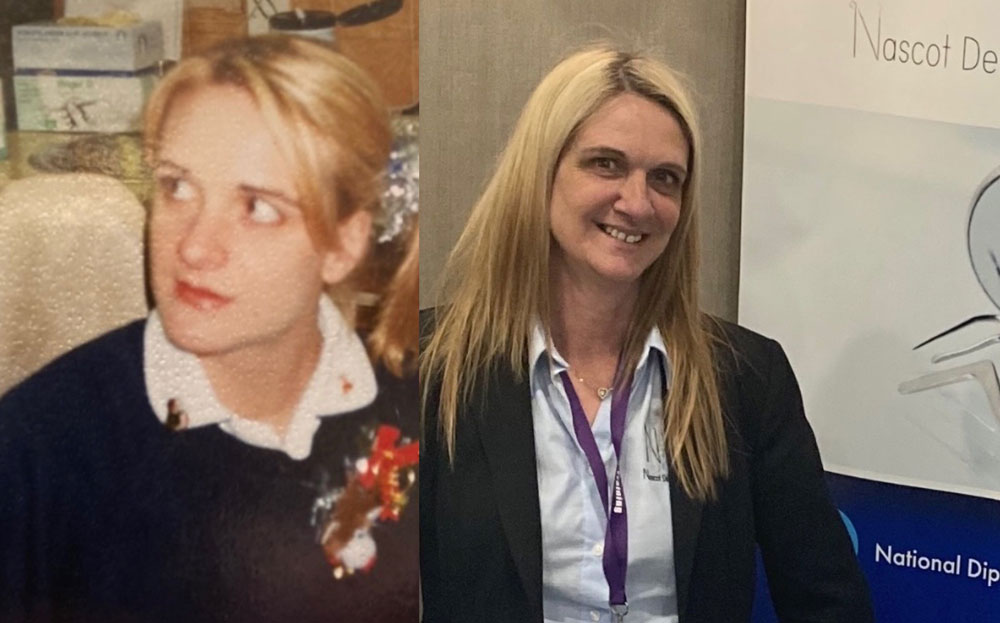 I can't quite believe I have now been qualified 30 years, after passing my NEBDN qualification in November 1992.
My clinical career as a Dental Nurse started in summer 1989.  I have since this time had the opportunity to  work in both private and NHS practices, been a Head Nurse, Practice manager and since 2016 a Dental Tutor. During my career I have seen many changes and developments in Dentistry.
Back in June 1989, when my career started as a Trainee Dental Nurse in an NHS practice and I can remember that day as if it was yesterday.  It was a hot summer and I had been sunbathing the day before and was now suffering with sunburn. My uniform was a popper button up dress that came "unpopped" frequently!
We never wore any PPE, only sterilised extraction instruments.  All other instruments were "Cold Sterilised" along with metal aspirator tubes and mouthwash cups.
Our suction system wasn't central so every evening we emptied a bottle (affectionally called "slopping out") of the days salvia and haemoglobin. The materials were also basic with only one Glass Ionomer available as a luting and restoration material along with amalgam and putty with a wash that was hand mixed with an activator.
It wasn't until I studied the NEBDN qualification and moving to another practice in 1991 that I realised "Cold Sterilisation" did not exist and we had in fact been disinfecting all the instruments, handpieces and metal mouthwash cups.
Over the next 20 years our PPE changed- we now wore gloves, masks, visors with huge emphasis in cross infection control which became paramount. New treatments and materials became available – in fact dentistry had changed beyond recognition since my first day way back in June 1989.
One of the biggest changes besides PPE, materials and fast developing treatments and technology was mandatory registration for Dental Nurses and the Care Quality Commission. Registration for Dental Nurses brought with it the need for Continued Professional Development.
It was on an Infection Control course back in 2008 by a prominent professor that I first heard the word "Pandemic". He talked about the likelihood of a worldwide pandemic with Dental Staff wearing breathing apparatus and haslet type PPE. At the time this seemed highly unlikely and rather unthinkable……
In March 2020 the UK went into full lockdown with Dental Practices closed, many dental staff furloughed or being made redundant. In June 2020 it was announced that new Special Operation Procedures and enhanced PPE Dental Practices would once again open for face-to-face treatment.
As a tutor I am a firm believer that it is important I still work in a clinical environment (1-2 days per week) this not only allows me to be up to date with any new treatments, be able to be empathic with my students. This could not have been more significant than returning to clinic in June 2020, we had new SOPs to adhere to, mask fitting for FFP3 masks, fallow times, air filters, wearing a face covering around the practice (that was extremely difficult as I was trained to NEVER leave the clinical environment wearing any PPE), setting everything out before treatments, deep cleaning of surgeries.
Yes, it has been hard.  Dentistry has changed and it's been a very difficult past few years for us all. I also have had times when I have struggled mentally with all the pressure of Covid 19, New PPE, new SOPs combined with the stress of teaching and preparing my students for their examinations during a worldwide pandemic.
Many have asked why I went back? For my students – how can I be a good empathic Tutor understanding my students' worries or concerns if I have not experienced the "New Normal" in Dentistry at that time. However, thankfully things are now getting back to some kind of normality.  It's not only understanding the new procedures, protocols in place and support, it's also experiencing them thus enabling me to reassure my students throughout their learning journey. I enjoy nothing more than watching my learners develop and learn with many going onto have amazing careers as dentists, hygienists, orthodontic therapists , practice managers, head nurses or becoming self-employed locums running their own businesses. I am looking forward to continuing in my Teaching role delivering a fun, innovative learning experience to the next generation.
I still to this day work in clinic occasionally though my main role is Head Tutor at Nascot Dental Team Training sharing my wealth of knowledge with a new generation of learners. My teaching career started in 2016 when l obtained a Level 3 Diploma in teacher training then progressing to graduating with my teaching degree in 2018. I have taught for private, and government founded colleges delivering the NEBDN Qualifications with also occasionally teaching Oral Anatomy units in other subjects.