How to become a Course Provider?
Over the past 75 years, NEBDN has become synonymous with the dental nursing industry, aiming to be the awarding body of choice for all dental nurses through our ability to offer high calibre, widely renowned qualifications, which are recognised for their quality, value and relevance to the ever-changing dental industry. We are the only awarding organisation to offer the OSCE assessments as part of the National Diploma in Dental Nursing, ensuring candidates show practical application of learning; offering course providers a high quality fully managed assessment experience.
In addition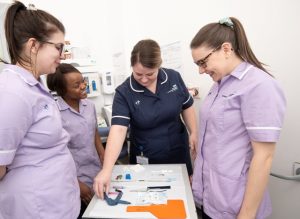 to the national diploma, we also offer a range of Post-Registration specialist qualifications to provide professional development to those who are already GDC registered:
Dental implant Nursing
Dental Radiography
Dental Sedation Nursing
Oral Health Education
Orthodontic Dental Nursing
Special Care Dental Nursing
If you are an organisation wishing to provide education and training to the qualifications awarded by NEBDN, we'd love to hear from you!
Before you can register your candidates with us, you must evidence that you can meet NEBDN's Accreditation Standards, which outline the criteria that our course providers are required to meet to be an accredited centre.
The NEBDN Accreditation Standards are set out in nine sections:
Programme Content and Design
Recruitment
Teaching and Learning
Record of Experience
Assessment
Student Support
Resources
Personnel Management
Quality Assurance
The Standards take into consideration the GDC Standards for Education that course providers are expected to meet for training programmes to be accepted for registration.
For more information, or to order an accreditation enquiry pack, please complete the Contact Form and return to the quality assurance team at QA@nebdn.org or telephone us on 01772 429917.
We look forward to working with you.