January 5, 2023
Earlier this year we opened our annual Special Recognition Awards (SRAs) for individuals who had a major impact on the contribution to education and training of Dental Nurses. 
We would like to take this opportunity to recognise two worthy recipients of NEBDN's Special Recognition Awards for 2022. These awards are allocated across three categories:
– Contribution to Dental Nursing
– Contribution to Dental Nurse Education and Training
– Contribution to NEBDN
Following a shortlist, we are excited to announce the winners of the 2022 SRAs are:
Award Winner – Contribution to Dental Nursing:
Jackie Gazzard
Jackie is a Centre provider at Cotswold Dental Training and an Examiner for NEBDN.
Jackie has been a Dental Nurse for 45 years graduating from Bristol Dental School in 1979. During her career she has been heavily involved in the development of Dental Nursing from setting up Cotswold Dental Training 15 years ago with one Learner and since have had over 300 successful Learners graduating.
During this time Jackie also spent 10 years with the South West Dental Deanery setting up and supporting dental care study groups within the region and chaired the nurses section of the Gloucestershire Independent group of Dentists. In recognition of her input and development of Dental Nurses, she was awarded the Licentiateship award in Dental Nursing in 2017.
Jackie still actively teaches and enjoys supporting NEBDN as a Presiding Examiner.
Award Winner – Contribution to Dental Nurse Education and Training:
Verne Rice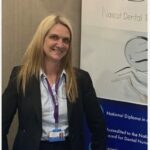 Verne is a Centre provider for NEBDN at Nascot Dental Team Training.
She first started dental nursing over 35 years ago, gaining her NEBDN qualification in 1992, working for the same clinician for 25 years. In her role she always enjoyed training new staff and overseeing work experience Learners.
In 2016, Verne completed her Level 3 diploma in Teacher Training then progressing to graduate with a Teaching degree and became Head Tutor at Nascot Dental Team Training in 2018. She enjoys watching her Learners grow and develop into many career paths such as Dentists, Hygienists, Orthodontic Therapists, Practice Manager, or becoming self-employed locums running their own businesses. Verne is passionate about teaching, believing every Learner should be the centre of everything and Learning should be a fun, innovative learning experience. She is looking forward to nurturing, supporting the next generation of Dental Nurses.
Both winners will receive their awards at our Spring Conference this March 2023.